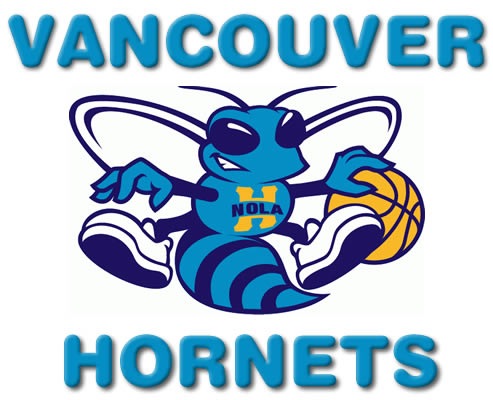 Don't get the wrong idea. The image above is not official and is simply a mock up we've put together to see how Vancouver Hornets might look on a logo design.
One of the thoughts we're having on this day when talk of the New Orleans Hornets are being mentioned with Vancouver, we are thinking about the "Hornets" part of the potential move. So what if Vancouver acquires the Hornets. Then what? Do we get the luxury of getting a brand spanking newly named team? What's the policy with the NBA regarding renaming of teams? Is there even a policy?
To answer this question we've done a bit of looking around on the internet. Our conclusion? It would seem that changing a NBA teams name when they are relocated is not a practice endorsed by the NBA brass. It would seem that with the NBA teams relocating in around the 1970's, there were a number of name changes. With that said, those same teams in subsequent relocations have kept the same name. Ah, but always a troubling exception.
In 2008, the Seattle Supersonics moved to Oklahoma and became the City Thunder. This name change flies in the face of how the NBA has dealt with relocating NBA franchises in recent and not-so-recent history. Add to that in 1997 the Bullets became the Washington Wizards. What gives? Does this mean the Vancouver Hornets will not be?
In the case of the Seattle Supersonics, it makes sense. The NBA will be back in Seattle for sure once they have a good building fit for the NBA. The Supersonics have history and they are Seattle's team for sure.
What about the Bullets becoming the Wizards? Most likely it's the violence aspect of "Bullets" being reason enough for a name change. That makes sense. In fact the name change is rational: "the team officially became known as the Washinton Wizards, a decision made by owners Irene and Abe Pollin in conjunction with the team's anti-violence campaign."
So have we established the fact that if Vancouver gets the Hornets that we will adopt their name also?